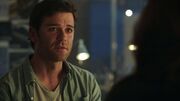 Alex Webster
is a photographer and the husband of the late
Ashley Webster
.
Biography
At some point before his wife's death, Alex starts to have on affair with her assistant Emily. When Emily starts to ask him for more, he convinces her that the only standing in their way of ending up together was some pretend prenup. Emily then kills Ashley. Catherine is able to get Alex to give her a list of all the women he was having on affair with. Tess and Catherine sees Emily's name on the list and goes to interrogate her.
Ad blocker interference detected!
Wikia is a free-to-use site that makes money from advertising. We have a modified experience for viewers using ad blockers

Wikia is not accessible if you've made further modifications. Remove the custom ad blocker rule(s) and the page will load as expected.