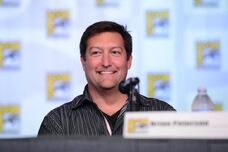 Brian Wayne Peterson (born September 27, 1970) is an American screenwriter and television producer. He wrote the script for 1999 film But I'm a Cheerleader and has worked on many episodes of Smallville as writer and producer since 2002. His consistent writing partner is Kelly Souders. This highlighted link will take you to Brian's Wikipedia page. There, you will be able to find his entire catalogue of work.
19 July 2012, the CW announced that Brian Peterson and Kelly Souders have joined CW's new series Beauty and the Beast, and that the pair would act as co-showrunners alongside writers and executive producers alongside writer/exec producers Jennifer Levin and Sherri Cooper.
Ad blocker interference detected!
Wikia is a free-to-use site that makes money from advertising. We have a modified experience for viewers using ad blockers

Wikia is not accessible if you've made further modifications. Remove the custom ad blocker rule(s) and the page will load as expected.