Father Knows Best is the sixth episode of the Second Season, and the twenty-eight episode overall.
Summary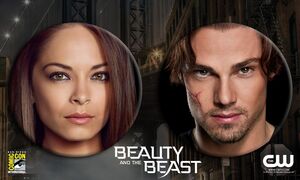 VINCENT'S LATEST MISSION GOES HORRIBLY WRONG --- Cat (Kristin Kreuk) confronts her birth father (guest star Ted Whitall) about the mysterious role he's played in her life, while Vincent (Jay Ryan) has to neutralize a high-profile beast. In the process of doing so, Vincent finds himself rescuing Tori (guest star Amber Skye Noyes), a damsel in distress, who may be the key to completing his mission. Sendhil Ramamurthy, Austin Basis and Nina Lisandrello also star. Paul Kaufman directed the episode written by Brad Kern and Roger Grant (#206).
Plot
Quotes
Vincent: Tori, most of us live secret lives; we don't have a choice. Sometimes, we can't even be honest with the people closest to us.
Tori: What kind of life is that?
Vincent: A lonely one...unless you're lucky enough to have someone special in your life to keep you sane.

---
Vincent: Nice kick. I hope that's not me you're taking it out on?
Catherine: No. Lucky for you, there is a new man in my life who is driving me crazy.
Cast
Gallery
Videos
Pictures
Behind the scenes
Trivia
References
See also